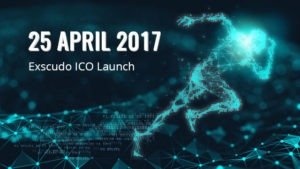 Cryptocurrency market growing day by day very fast and more people joining cryptocurrency community, as with new people join this community also new cryptocurrency in market race. Exscudo is best platform which offers a to make cryptocurrency more realistic. Exscudo comes in cryptocurrency market to solve some issues like illegal trading, slow speed, security, complicated procedures, shopping matter.
Exscudo offers simple way to analysing even for biginners using charts to technical indicators. It was designed in a way by which anyone can access cryptocurrency market easily and fast. Exscudo team decided to distribute debit card for their users but unfortunately they cancle this decission because of any inner problem.
Exscudo currency is a EON coin which has current cost of 1 EON is  0.0002 BTC. This is best platform to invest and get good profit from the  transactions confirmations upon launching EON blockchain nodes using the amount of EON owned. Exscudo system also provide up to 10 % more coins than actual launch price as early investors bonus. If users buy or pre-order some amount of EON coins before the launch of ICO they will get some decided amount of bonuses, if you booked EON coins within the 48 hours of the ICO you will get 10% and so on.
Exscudo Wallet & Messenger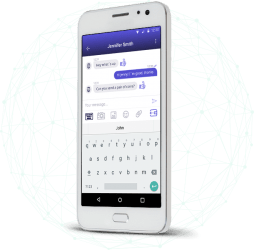 Exscudo offers mobile app wallet top their users. Users can use this app in three ways users can pay the amount, can control the transactions and exchange the EON coins with others also with fiat money so it make users free. Exscudo take small amount of fee for transactions it depends on the reansaction. With exscudo wallet and other basic features exscudo has one very amazing feature that is channel protected messenger.It was innovative step in cryptocurrency market. It helps to instant response between sender and reciever.
Exscudo ICO
Exscudo ICO starts on 25th April 2017 at 18:00 GMT and it was untill 31st may 2017.There was a 240 000 000 EON coins emitted instantly after the launch of ICO and for sale there was a 150 720 000 EON coins available at the ICO launch anyone can but them with Bitcoin. As adde above 1 EON coin is equal to 0.0002 BTC.
Bounty Campaign
To spread the word of Exscudo in front of whole cryptocurrency market, team started bounty programm in which users can participants to share and earn EON coins. 240 000 000 EON coins are reserved for this bounty campaign.
There are some basic rules to understand before join in any of the bounty campaigns.
To recieve your rewards you must have account in Exscudo website and there you can find bounty details easily. All rewards will send to your account. There are various types of campaign available such as twitter, facebook, bitcointalk signature campaign, bitcointalk translation and moderation, writing blog posts and posting articles in popular media. The price of bounty will be distributed after the end of ICO.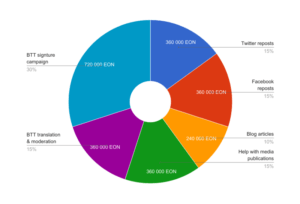 Exscudo Team 
Andrew Zimine: CEO, founder
Alex Sitnikov: CTO, founder
Julian Kossinov: Legal and Financial Advisor, European & North, American Markets Advisor
Alex Rebyakov: Lead Core Developer
Eugen Tchudinovskih: Lead Developer of trading terminals
Christian Kossinov: Financial Strategy Advisor, European and Asian Markets, Advisor
Oleg Bondar: Head of Front-End and App Development
Konstantin Afanasiev: Head of UX/UI
Aliaksandr Zahatski; Head of Web Development
Anton Baukin; Lead Java Developer
Contact Link
Website Link:  https://exscudo.com/
Facebook: https://www.facebook.com/exscudo
Twitter:  https://twitter.com/ex_scudo
Linkdin:  https://www.linkedin.com/company/exscudo
Reddit: https://www.reddit.com/r/EXSCUDO/
BitcoinTalk.org:  https://bitcointalk.org/index.php?topic=1781624.0