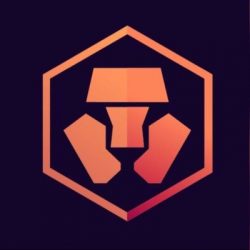 MONACO-cryptocurrency visa card, Day by day cryptocurrency world is getting bigger and progressive. Recently, Monaco introduced their multicoin debit card, which can solve the problem of currency exchange. Exchnage money at perfect interbank exchange rate using Monaco mobile App, it's easy and secure to use.
Monaco App  can be use to send money  in 23 different currencies to 120 countries worldwide for free. Monaco card has Bitcoin and Ethereum. Users can use this card offline and online uses, it can be easily maccessible in any ATM which has visa sign. Using monaco card is not too expensive as compared to other visa cards. Monaco Visa Card has a unique feature, this cards can get top up with BTC or ETH. It is better to use Monaco card to recieve and send digital currencies than using any wallet because it will bring the best interbank exchange rates to the end Customer via the APP
CORE FEATURES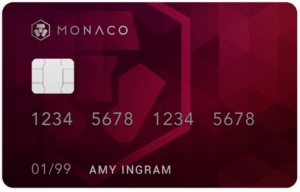 The functionality of Monaco VISA® Card makes it a must-have item not only for every Ether or Bitcoin holder, but also for everyone who spends money in foreign currency. Core features:
 Spend your Ether or Bitcoin with a physical Monaco VISA® Card, wherever VISA® cards are accepted, both online & offline
 Only the exact amount that you spend with your Monaco VISA® Card will be incrementally exchanged from ETH/BTC in real-time when you swipe your card, with rest being securely stored in your wallet to which only you have access
Exchange money at perfect interbank exchange rates using Monaco App
Enjoy the same perfect interbank rates whenever you spend on Monaco VISA® Card
Send money from Monaco App in 23 currencies to 120 countries worldwide for free
Sending money between Monaco App users is free & real-time, with the money being instantly available for the recipient on their Monaco VISA® Card
Customer onboarding can be done entirely via the mobile App – a process taking less than 3 minutes
To receive your Monaco VISA® Card, you need to download Monaco Android/iOS App, this app is not launched yet, it may be launch in september 2017. Users can receive their cards in free of costs, In practice that means savings of EUR30-40 on every EUR500 spent, compared to high street banks.
Most of visa cards take monthly or yearly fees for using thier cards, but for using Monaco card there is no fees. Even Monaco card is free to use in any atm. There is a 1% fee for all transactions (swipe and exchange) of ETH/BTC.
INITIAL COIN OFFERING (ICO) will held on 18th MAy 2017 and will get end on 18th June 2017. The minimum goal of  5000 ETH is achieved , at the time of writing Monaco ICO has raised 23937 ETH. You can buy MCO at the rate of 140 MCO per ETH, the price may be increase so it's better to buy it now. The platform only accept ETHEREUM so you need to sedn ETH only from your personal wallet not from online exchange
Monaco, announced Bounty program for the users to earn some money by spreading the words of Monaco to world. You can show your talent here and earn money. To join bounty campaign click here.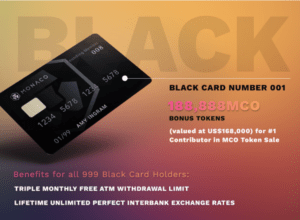 The Monaco VISA® BLACK Card
Limited Edition Monaco VISA® BLACK Card will be issued to 999 contributors.
001-499 – will be assigned to the top ETH token contributors at closing
500-999 – will be assigned to the fastest contributors based on time stamp
There will be no Monaco VISA® BLACK Card issued after the initial 999.
Contact Links
Website:  https://www.mona.co/
Twitter: https://twitter.com/monaco_card
Facebook: https://www.facebook.com/Monaco-Card-1355426087883151/
Slack:  https://slack.mona.co/
WhitePaper: https://www.mona.co/monaco-whitepaper.pdf
Announcement: https://bitcointalk.org/index.php?topic=1926269.0
Reddit: https://www.reddit.com/r/MonacoCard/
Contact Me: