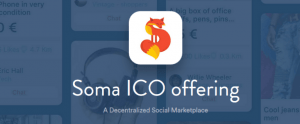 SOMA is the first attractive blockchain based social marketplace. Trading is a part of our life. We do trading daily. We know trading outside political border before few decade is very hard task. Even sometime we pay huge amount for middleman. But now time is changed we. Now everyone wants their need to finish instant and they prefer to trade online. Online marketplace like e-bay changed the marketplace from traditional to modern.
But there are few problems which need to  get solve. According to website of SOMA, "SOMA is a revolutionary decentralized platform which facilitates trade  inside the Soma community through a rewarding system that enables beneficial collaboration of the community members Users are an encouraged to engage in actions that will benefit every one on platform". SOMA is first and exclusive social marketplace which will reward users for aiding the process of exchanging. This is platform where users wealth will increase by joining social capial of community. SOMA team planned to be a worls internet's largest marketplace where the benefit of the decentralized platform are utilized efficiently.
SOMA rearding system based on ERC20 Ethereum token, SCT (SOMA Community Token). Soma using Ethereum blockchain to build social marketplace. Users will get rewarded for their actions perform on the site. SCT token can be used inside of platform to perform any action inside. Also SCT token will available on exchanges to buy and sell.
Users may earn SCT tokens as a reward for promoting Interactive Item Cards. The promnotion must done internally within the community, like internally created group in community. Also users can share on xternal stages but with allowance of orginal publisher.
On Soma you can use various payment methods  such as fiat currency, Bitcoin, Ethereum and other known altcoins, also SCT tokens will considered as a payment options. Users can also deposit through  Credit card or debit card, Paypal, Wire transfer etc. Usershas to choose to be credited to their soma ccount or not. To satisfy price of crypto currencies for new comers. Price of crypto will show in fiat currency at starting. Also soma has an inbuilt escrow service to avoid any future despute.
SCT ICO will held on 26th september  and will end on 26th October. SOMA token total supply is 60,000,000 SCT token and 54,000,000 SCT tokens will be distributed in ICO. Rest of 6,000,000 SCT tokens will hold by SOMA team for future use like  marketing, rewarding community member, team reward. Maximum ICO cap is 120,000 ETH, with every 1500 ETH raised in ICO SOMA will expand their marketplace to a new region or country
As for the ICO round – the funds will be utilized as follows:
35% Marketing and area launches
20% Product development and technology
20% Legal issues and patents
15% Operational team
10% Community reward
SOMA laso launch their Bounty campaign to spread their words and to earn some free tokens. there are different campaigns are running in this bounty campaign. To join in this bounty campaign visit here.
1 ETH = 450 SCT
Contact Link
You can contact me on BitcoinTalk: Ankit10