Notary is first real life contract building application for everyday use is about to launch their pre-ICO on 20th May 2017  to 17th June 2017 to sell 3.5M NTRY tokens at the price of 10K satoshi per tokens to know more about NOTARY visit BitcoinTalk.Org thread . Notary platform was developed on the Ethereum Classic network, the network which follows code is law. It is real economically viable applications which is web and app with great potential already in the early stages. Notary (NTRY) create timestamp of every one digital document and digital content, which also retrieved it anytime and proves the contents of the digital documents. It engage in ongoing contracts without any intereference of third party. Most of the cryptocurrencies have already this two options but they have bit lack of userfreindly interfaces and use cases.
Notary team explained very well " Why Notary Platform" 
As a buyer, if you have ever bought or before buying any used things like a car, house, machines etc. as you some questions in mind is everything will be good or not, as a buyer you have to protect yor own interest and gain more profit from it what you buy. For example if you bought a car (used car) and eventually it was get damaged on the way to home, Before I bought it, the seller said it was in pristine condition so in the end, if I would search legal help, it would be his word against mine. Cointract is similar to stuffy witten contract. Cointracts main intention is to make timestamp showing the time of origin of diogital documents and to prove contents of the digital documents.
To prevent this unfortunate condition NOTARY team decided to find solution for it and start developing a practical solution for this type of any problem.
The solution is called Notary Platform. The Platform enables you to engage in contracts on a go. That means, if you are buying a used car (or house, boat, etc.) you can simply open Notary Platform mobile app, download a contract (template) to your phone (or you do it on a website) and insert your key information. Eventually, before you close the deal, you can add the pictures/video of the state the car is in. Then both parties sign the contract (with fingerprint or signature). When you and the seller don't have anything more to add, you pay a small transaction fee and that's it. The application sends copies to both e-mails. All those data (contract + video/sound/pictures/etc.) "go" through blockchain who creates a hash and corresponding timestamp which will prove the time of origin of the digital document. The hash and the timestamp gives you an immutable proof!
This is just one example you can find more examples on NOTARY website homepage.
Notary Platform
NTRY will offer the integration of diverse digital sources for the users to use. The sourc es could use severally or in conjuction which includes :
-templates or written and then scanned forms
-sound
-picture
-video
-proof of existence (e.g. facial recognition, a retina scan)
User Interface
Most Simple Uses of Cases
NTRY cointracts can be used almost anywhere and anytime there are number of places wher NTRY cointracts can used which are given below in image. Basic work is to connect more than two or two parties or contracts.
ICO and NTRY Token Distribution:
Notary tokens are connected with Ethereum platform. The ICO will start on 21/09/2017 and with last 35 days. The distribution of NTRY tokens are already decided in good manner, if cap is met.
Total cap: 150,000,000 NTRY or 1500 BTC
Price per token: 1 NTRY is equals to 10000 satoshi of bitcoin.
Notary team declared that no tokens will be mined or created after the end of ICO campaign and also if any part of NOTARY  tokens remianed at the end of the ICO will be burned out. And the funds of investors get refunded.
Total: 150.000.000 NTRY (100%)
ICO participants: 120.000.000 NTRY (80%)
The Notary (NTRY) team: 15.000.000 NTRY (10%)*
Notary (NTRY) marketing: 7.500.000 NTRY (5%)**
Pre-ICO + Bounties: 7.500.000 NTRY (5%)
*reserved for the (future) team (delayed founder liquidity for one year)
** reserved for marketing (i.e. the first few thousand users will receive an X number of tokens
as a reward for feedback on testing and the user-friendly experience, aggressive advertisement
in different media etc.)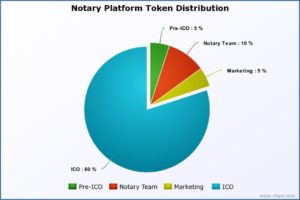 For more deatils please visit this given links:
Blog
Twitter
Whitepaper
Bounty campaign