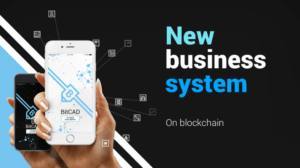 MAY 3, 2017 –– BitCAD, a cryptographic smart platform, has announced a crowdfunding campaign to back the development and production of a wide variety of hardware and software solutions based on blockchain technology. The products seek to revolutionize the very core of business relationships and make them easier while enhancing security and reliability of the entire paradigm. Crowdsale will start on May 4, 2017 at 12:00 GMT.
Nowdays blockchain technologies widely used in every business, but with using blockchain every businesses sgould adopt modern technology too. Except this, for your  business which was based on blockchain, you should have the operating system which which manage your others will maintain, design and analyze the business well. Bitcad system's software solution comprise a comprehensive system which focused on maintining financial processes like accounting, CRM, asset management, or online banking with wallets.
BitCad introduced  a decentralized trade engine Tectum which mainly used in purpose of  API to integrating a Banking system, Insurance, CRM system, Trade platform and exchanges, Government, Taxation, DN and custom applications. This system is very effective and efficient in the offering the right solution to various business need and they operate  through a secure Blockchain technology.
Finally, the company develops a decentralized system for biometric identification of users that works as fast as its classic counterparts with no involved risks of compromising sensitive data due to vulnerabilities inherent in centralized solutions.
The crowdsale shall last for one month, from May 4th to June 4th of 2017. Out of 100,000,000 tokens supplied overall, 51 per cent will be subject to sale over the course of the campaign, with the remaining funds distributed between the project's team and early backers (20 per cent), business specialists and academic researchers (27 per cent), while the remaining 2 per cent will be reserved for post-crowdsale bounties.
BitCAD founder Vladislav Mitrofanov said

"Our systems are set to be as accurate and precise as possible. We seek to remove all vulnerabilities and inconveniences of outdated centralized financial and legal solutions. What we offer is a completely new paradigm where people can feel at home in a decentralized environment, and the internet of things works like clockwork."
Another option offered by the platform is so-called electronic arbitration, meaning that any disputes that may arise out of a contract are settled in electronic form on the platform under the jurisdiction acknowledged by the parties and by mutually agreed arbitrators.
"Electronic justice is a fast and reliable way to settle disputes between platform members or third parties that had concluded a smart contract elsewhere, or even signed a classic written agreement. It makes feigning proofs impossible while offering freedom in choosing judges of various legal systems. This is the future of dispute settlement."
The owner of this project are not replying even after they are active ooon twitter, it seems they are trying to scam the people so i suggest you to not invest in this project untill they clarify their problems
Contact Links
Website: http://bitcad.me
Facebook: https://www.facebook.com/bitcadplatform/
Twitter: https://twitter.com/bitcadplatform
GitHub: https://github.com/BitCADplatform
Announcement: https://bitcointalk.org/index.php?topic=1865997.0
Whitepaper: https://bitcad.io/BitCAD.pdf
Blog: https://blog.bitcad.io/
Slack: https://bitcad.herokuapp.com/